Surf school in Mauritius
Learning to surf in Mauritius in school «Pryde Club Mauritius»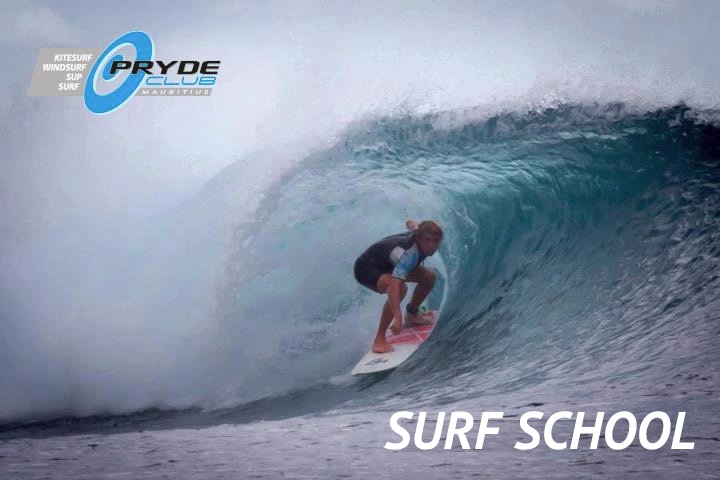 Presenting your attention the surf school in Mauritius «Pryde Club Mauritius». Besides SUP Safari or riding the waves on the Stand Up Padlle Board, no wind can be spent surfing.
In our school for learning to surf in Mauritius has everything you need:
Softbords: 7'0″, 8'0″, 9'0″, 9'6″. Shortboards: 6'3″, 6'4″, 6'6″. Funboards: 7'0″, 7'2″. Longboards: 8'6″, 9'0″, 9'6″.
Two boats that carry out maintenance and transfer to the spot, as well as the most surf trips known and are difficult to reach and is uninhabited areas
Your training will take the people with decent experience in surfing:
Eugene Novozheev (Jackson). 4-time Champion of Russia Kitesurfing, the world record for crossing the Bering Strait on the kite. In surfing 7 years. Caught in company with him, you learn a lot about the waves, hurricanes, typhoons, currents, again, about how one ocean can flow in the other (the Bering Strait) and a lot of funny stories of life associated with the waves.
Oleg Ostrikov (Monster). A legendary figure in the world of Russian windsurfing and kitesurfing. Moreover, he was one of the first Russian people who have mastered kite and trained many of Champions, he is one of the first "Russian surfers" who saw and told the masses that ride on the waves much more interesting than without them.Finally left the place in Africa, which does not reach svell, and ended up here, where long wanted to get. Of course, his dream has always been Hawaii, but received 5 failures in the American visa, he immediately realized (or remembered) that the wave is not only there.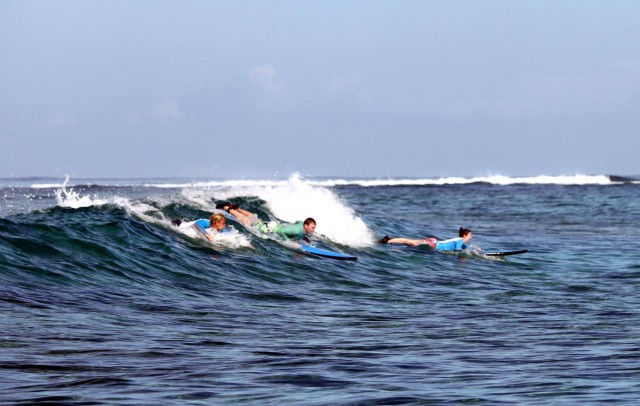 The cost of learning to surf at school «Pryde Club Mauritius»
All prices per person in MUR (Mauritian Rupees)
Exchange rates MUR to all world currencies here >>
2500 MUR for a 2.5 hour session in the group 3-5 people per instructor, including equipment rental, instruction on land and water, transfer by speedboat to the spot and back
3250 MUR for a 2.5 hour semi-private lesson for 2 persons with an instructor, including equipment rental, instruction on land and water, transfer by speedboat to the spot and back
4000 MUR for a 2.5 hour private lesson with an instructor, including equipment rental, instruction on land and water, transfer by speedboat to the spot and back
Surfboards for rent: 6'3″, 6'4″, 6'6″, 7'0″, 7'2″, 8'0″, 8'6″, 9'0″, 9'6″. Price per day 1200 MUR if duration of rent is 1-2 days, 1100 MUR per day (duration 3 days), 1000 MUR per day (duration 4 days), 950 MUR per day (duration 5 days), 900 MUR per day (duration 6 days), 850 MUR per day (duration 7-13 days), 800 MUR per day (duration from 14 days).
400 MUR for a transfer by speedboat to Small Reef and back, 800 MUR for a transfer to other spots of Le Morne
Book surf lessons ​​by phone +23059891060 or e-mail info@prydeclub.com