July 4, 2013
All the recent days the wind blowing very light and we need kites of really indecent sizes comparable to the small size one-bedroom apartments.
And today, sitting in the sunset on the Little Reef with surfboards, together with Sergei Luschev and Ilya Vinokurov, we watched as someone crawled back and forth on big Flysurfer – kite, which you won't see often in our area. Personally, I prefer to surf these days.
The arrival of Ilya Vinokurov means that in a couple of days begins Partner's Meeting of Pryde Group, the world's largest player in the market of water sports. The group of companies Pryde includes such brands as Cabrinha, NP, JP, Neilpryde, Imagine. In addition to the 60 distributors from al over the world, surf superstars such as Dave Kalama, Pete Cabrinha and Keahi de Aboitiz will come.
Together we will test the equipment 2014, and of course, will share all information with you immediately. Unloading of a container with a bunch of new stuff is scheduled for tomorrow! So, wait spy photos.
Just shhh!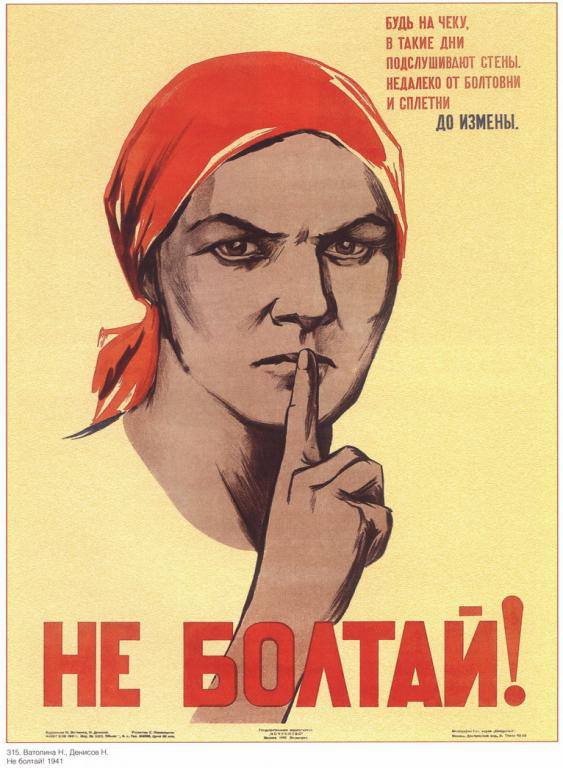 July 5, 2013
Again there is no wind. A couple Flysurfers in the sky. I sit on the Little Reef with longboard. There is also one  SUPer. Waves mostly are too little, but we sit. We roll crumbs, because it's hot and there is nothing to catch on the shore.
Some unidentified kite is being launched from Indiana Resort . Then he approaches us… Come on!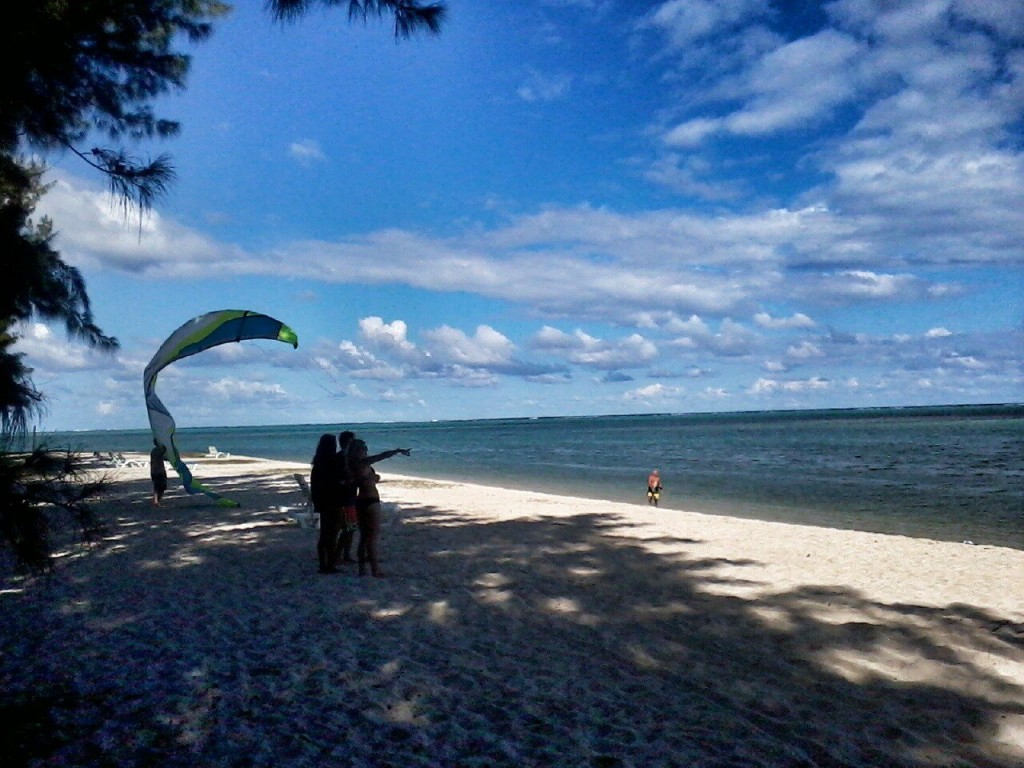 Well, yes! It is Pete Cabrinha himself! On the surfboard, and with some new kite, absolutely featureless except the logo lettering Cabrinha. Maybe a prototype 2015, as 2014 should already be in the company's entire design? Pete caught the crumbs on the Little Reef, and rode to the Chamoux. And there is really no wind. No one dares to go out on the reef in such weather. However, Pete did not stay there long. He waved by his kite a little bit  and turned back to the shore. And I followed him!
The work is going on in Indiana Resorts already. Lots of people brought parses stuff, hinges bolted to the boards and fins, stuffed sails and so on. I made a few photos, where you can check out the designs of the boards.
Met with the managers of the Pryde Group, greeted  Pete and James Boulding, who, as it turned out, is going to Russia with his English friends this year! But it's a top secret by now. We are waiting for the official announcement, which seems to be about to appear. So, as usual, shhh!
July 6, 2013
Started meeting of Pryde Group. Today, the whole day is dedicated to the collection of Cabrinha 2014 . The line of kites consists of 6 models: three specialized (Drifter – surf, Velocity – race, Chaos – freestyle), three universal (Switchblade , Vector , Contra). Contra – a new lightwind kite with three very thin struts, sizes 15 and 17m. All kites using the new double ripstop fabric, specially made for the kites. It looks very convincing! The new control system, which allows you to change the size of the bar on the go in a few seconds. When safety system activated kite now hangs on only one line – maximum of security in any wind. Central lines diverge very low – current sensitive operation and quick unraveling after 'washing machine' (which for me personally is very important). The collection for light wind also offers two boards – for jumping twin tip, for fun riding – something like a racing board, called Alias. New footstraps H2, which can be configured as many as five different ways. Everyone ran to the water test! And, yes, Pete asked not to tell anyone, so shhh!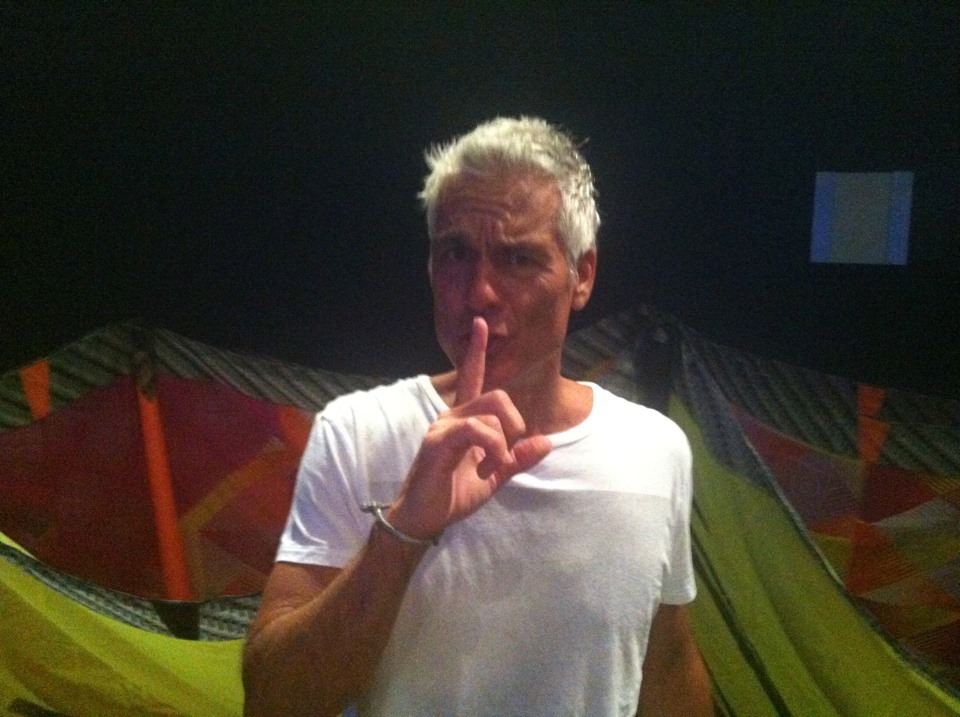 July 7, 2013
Today, Pryde Group meeting was devoted to presentations SUP boards 2014. First presented SUP collection of Hawaiian legend Dave Kalama (his brand is called Imagine), and then a collection of JP. Generally SUP is very universal toy. Regardless of the surface of the water, whether it's with a perfect ocean swell, sea wave surf, mountain river or a quiet calm lake in the forest, regardless of gender, height, weight, physical fitness and age, with paddle is always possible to extract a fair share of positive emotions. You only need to choose the right board and paddle.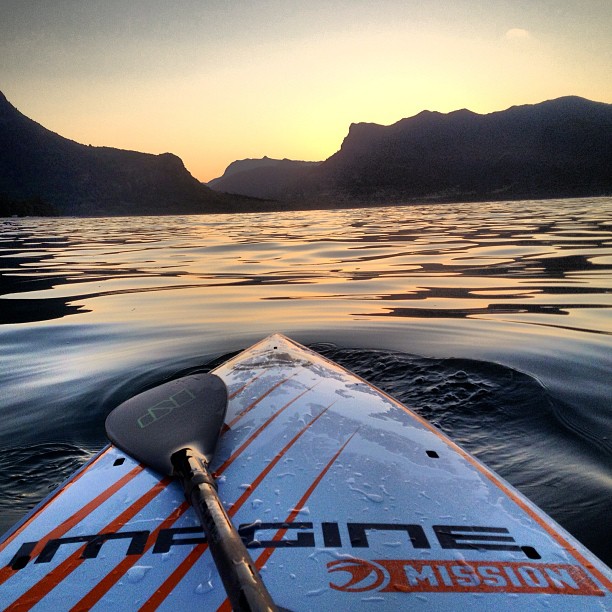 Imagine 2014 was introduced by the famous surfer Dave Kalama (everybody saw "Riding on the giants?"). The range of SUP boards is very wide! Inflatable, plastic, classic. For waves, for racing, for fitness, even for fishing there are several models

Just shhh, Dave asked not to tell anyone!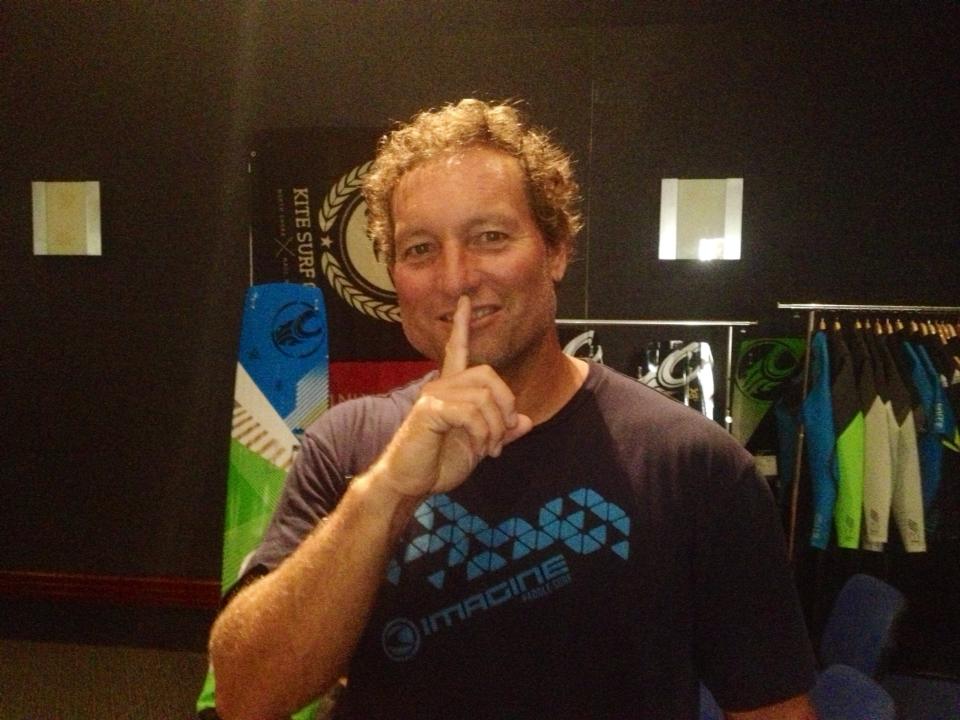 JP 2014 is a collection of 45 models SUP boards for all occasions! Inflatable range of 9 models for travel around the world covers all kinds of SUP-activities: surfing, fitness, racing, rafting. Most Non-inflatable models boards executed in two variants: solid wood and light carbon fiber sandwich! Among which is the new Surf Pro Edition, which Keahi de Aboitiz manages to do on a wave crashes, turns on the 180 and even ride in the pipes! Many models of JP boards can also be used as a windsurf SUP boards. Cool, immediately after the presentation you can try any of new products. Today I even caught my first little wave on SUP.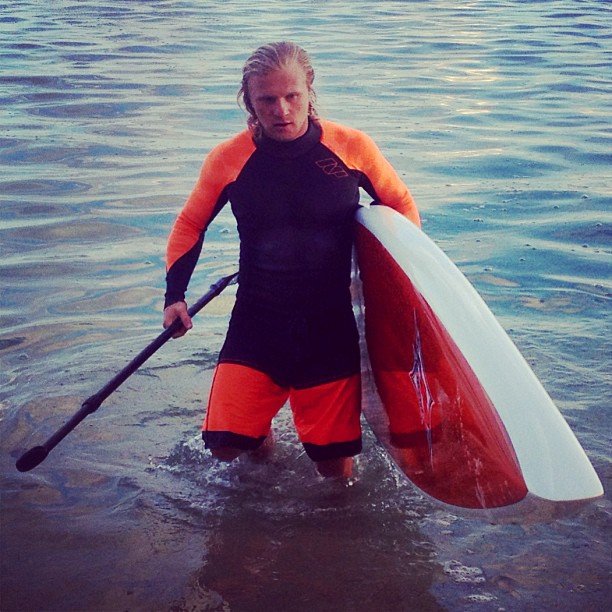 July 8, 2013
The presentation of windsurf equipment Neilpryde 2014 is just finished. The best in the industry sails, masts and booms. A lot of time was devoted to new technologies masts, which are by far the strongest in the world: 12% stronger than Gaastra and 23% North Sails. Also presented a wide range of JP windsurf boards for all disciplines of windsurfing.
I've got the long lasting impression of the video of Jason Polyakow and Robby Swift in giant waves of Oahu. Would have to go windsurfing

Ah, I almost forgot! Mr. Neil Pryde asked everyone not to talk about the new collection, so shhh!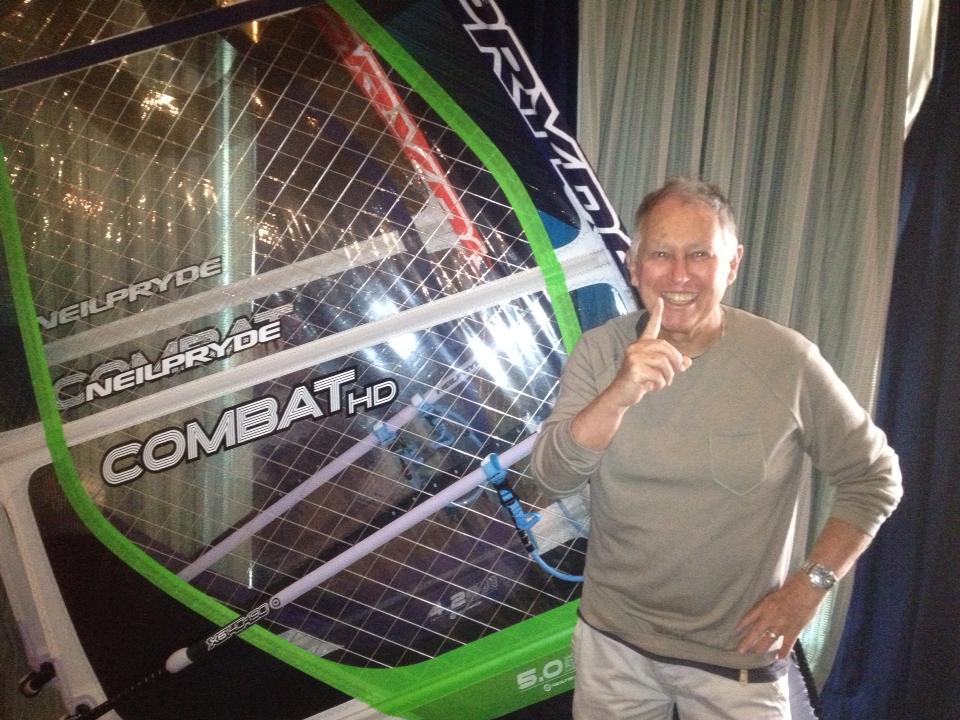 July 9, 2013
On meeting today it was a collection of NP 2014. What I discovered new for myself today are SUP paddles. It turns out that for each of SUPers paddle is no less important than the board. In the line of NP 2014 five types of paddles, three different sizes in each. Different angles of the blades of the paddles, different shapes (concave with or without), different designs, different stiffness and weight, different systems of edge enhancement, various systems adjust the length of the paddle. Overall, a very serious engineering design! At the factory each paddle passes the test after production – 75 kg ply steel ingot is suspended from the middle to test the fracture toughness. In the video, paddle effectively double up on a few tens of centimeters, and then returned to the original position.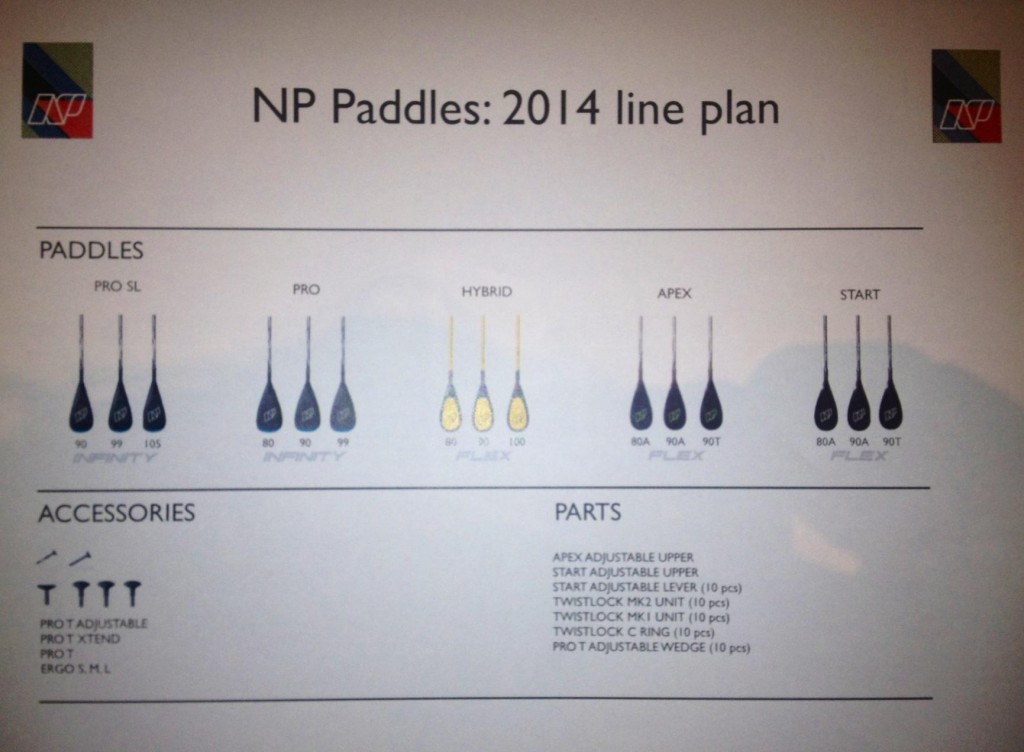 And, of course, most of the time was devoted to the collection of water wear, harnesses, accessories NP 2014. The top models of wetsuits have a new heater Fireline. It wicks moisture away from the body and keeps the heat, it is very fast drying. There were a lot of different products, but  I can't tire you out with the story about them, because the catalog NP is already 155 pages!
After the presentation, we went to the tests again. Someone rode a new kite Contra, someone tested windsurfing, and we again went to the SUP, as Little Reef works well again. Today, I managed to do some passages from wave for a few hundred meters. SUP gradually begins to be very attractive, but I'm actively fighting it. Later didn't miss the opportunity to pure surfing in L'Ambulance Reef with Jackson. Especially cause we went with stars: Pete Cabrinha, Keahi de Aboitiz, Jimmy Barrow, Moona White, Ilya Vinokurov and Evgeny Novozheev. Well, okay, I've a loose tongue today. Especially, Keahi asked not to tell anyone anything. So, shhh!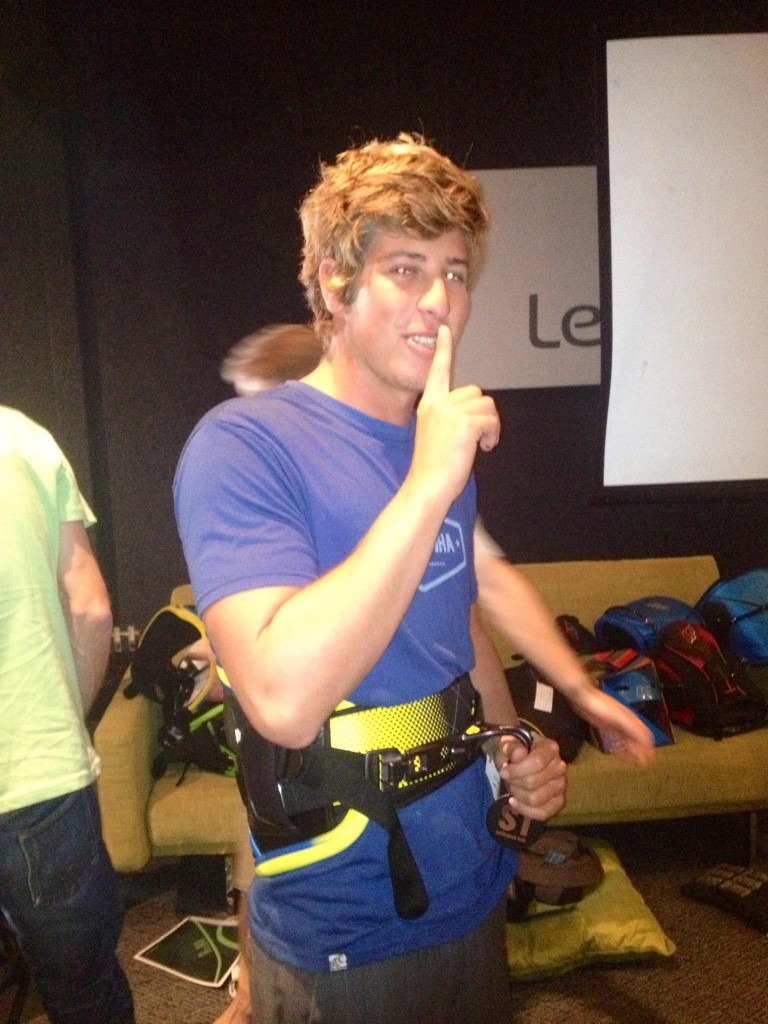 July 10, 2013
Meeting of Pryde Group is coming to an end. Today we went for a riding and have tried different types of equipment which, fortunately, will remain with us for further tests and sales . By the way, we currently possess an absolute exclusive, as all dealers and distributors are just starting to order what we already have in stock!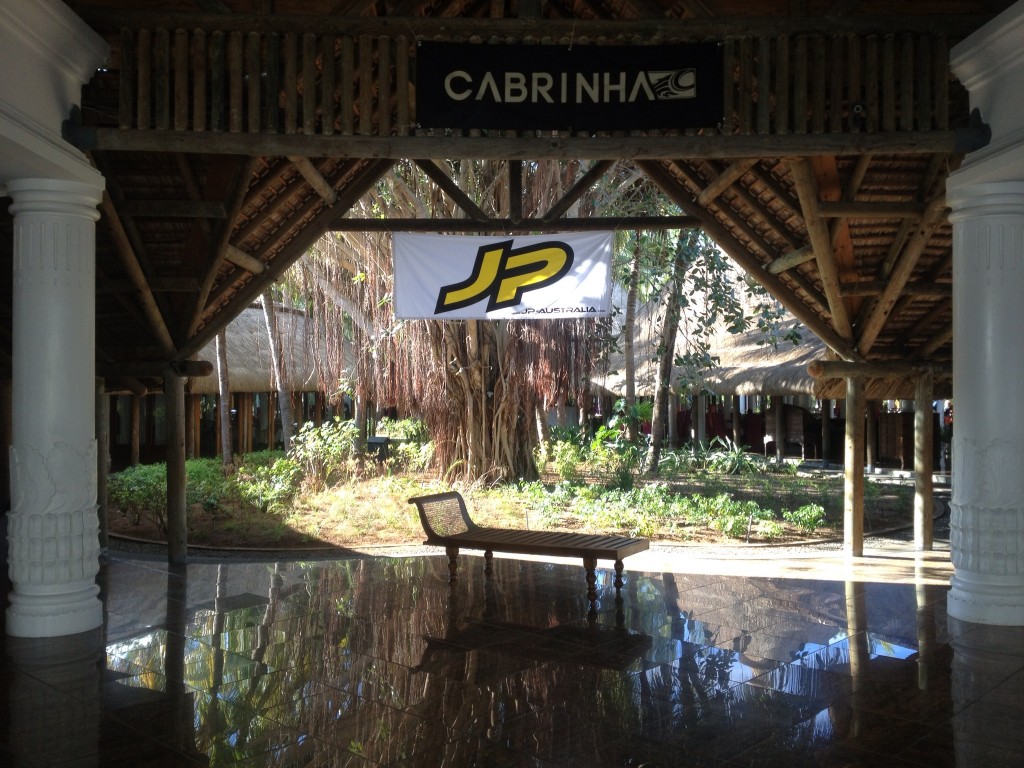 Secrecy of the collection of equipment in 2014 will soon be lifted, and we will immediately start to publish the presentation. We begin, of course, with the presentation of Cabrinha 2014 . Stay with us! It will be interesting!
Welcome to Pryde Club Mauritius!