It's been two weeks after the end of the sales meeting Pryde Group, which was held in Mauritius from 5 to 12 July 2013, and the secrecy that is installed by Pete Cabrinha and founder Neil Pryde around this event, finally, can be removed.
I'll tell you about how the presentation of a new line of equipment Cabrinha 2014 was going.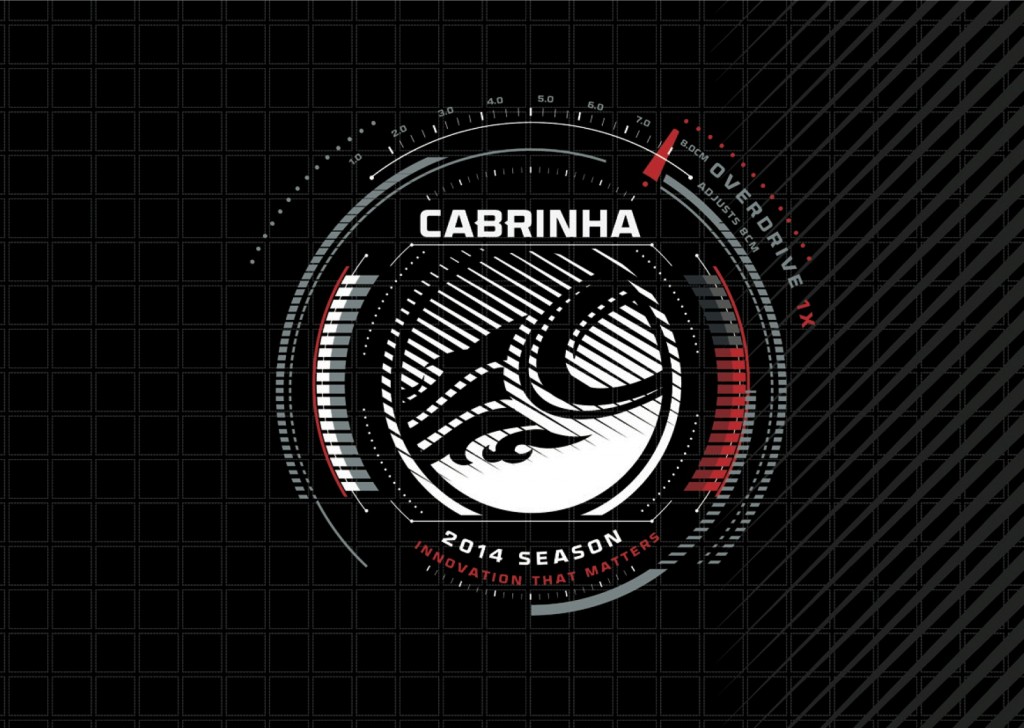 For me personally communicating with the legendary personalities that define the present and the future of our sport, was an invaluable experience. Pete Cabrinha – it's not just the famous Hawaiian surfer, who became the face of the kite brand in the group of companies Mr. Neil Pryde. This is the man who controls all stages of production and is personally involved in the development of each product sold under his name. Simply, Pete's life is the life of the company, it is entirely his baby! It was very pleasant to meet and surf along with Pete during that week.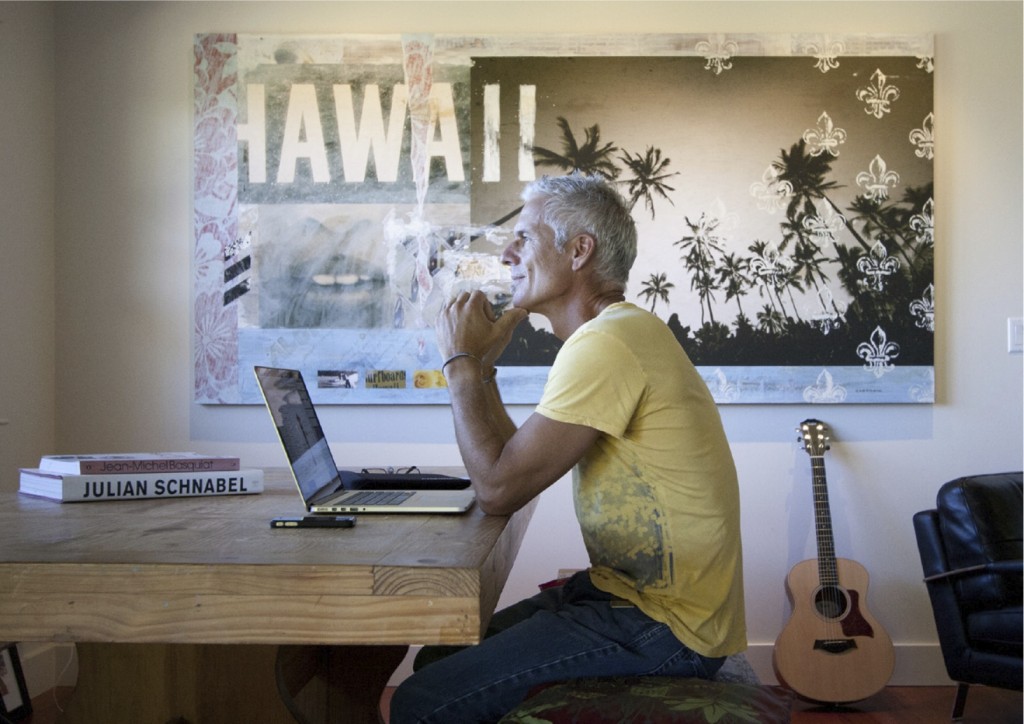 Presentation of the collection 2014 Cabrinha gathered a full house of dealers of the brand from all over the world. Pete drove presentation in a relaxed style. I recalled some Apple products presentations posted on YouTube, which held Steve Jobs. It was obvious that Pete ideally knows the area and knows how to bring their ideas to the audience. Pete did not use any pieces of paper during a presentation using slides and a video output from the projector on a large white screen behind him.
The presentation began with a welcome speech in which Pete thanked all the participants for sharing his vision of the kitesurfing equipment and convey these messages to riders on all continents. Pete has paid special attention to the fact that all the kites are made by hand using only the best materials and experience of the world's best team of professionals of kite industry. As a result Cabrinha is able to create innovative products, moving the sport to a new level. The example of such team work of this year can be a new security and control system Overdrive 1X, which is by far the quickest adjustable kite bar in the world.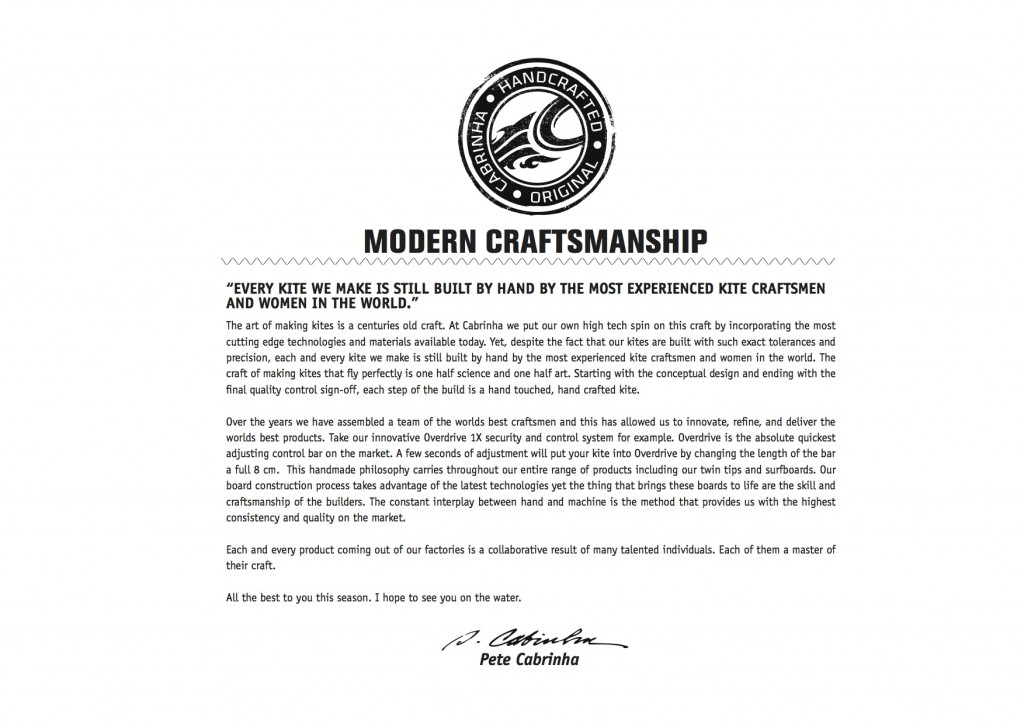 Then Pete briefly listed the key features of the collection Cabrinha 2014 season:
After that he talk about them in detail.
The new control system Overdrive X1. Bar size of 49-57 cm can change the length by 8cm during riding. To do this, you just need to pull the handle, and move the edge of the bar to the desired position. Not only that one bar can be used with different sizes of kites, but also change the size of the bar can be on the move: wakestyle on the small size bar or make big air on the increased bar.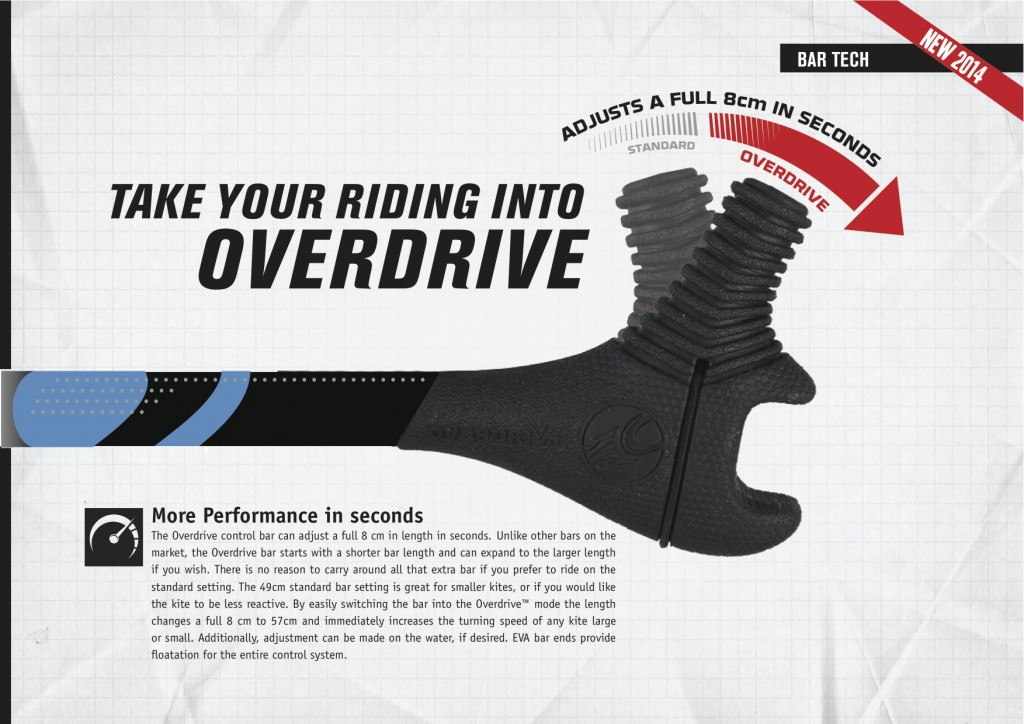 Materials of 2014 Cabrinha boards. Manufacturing technology surfboard using cork and bamboo, making boards for wave riding both strong and flexible, well established in the past year, so four of the five surfboard this year using this technology. The new park board Custom CBL as laminate wood core instead of conventional glass fiber used volcanic basalt. Basalt fiber absorbs vibrations better with greater tensile strength. Twin tip freestyle for professional XCaliber Signature is 100% laminated carbon fiber, providing a explosive pop.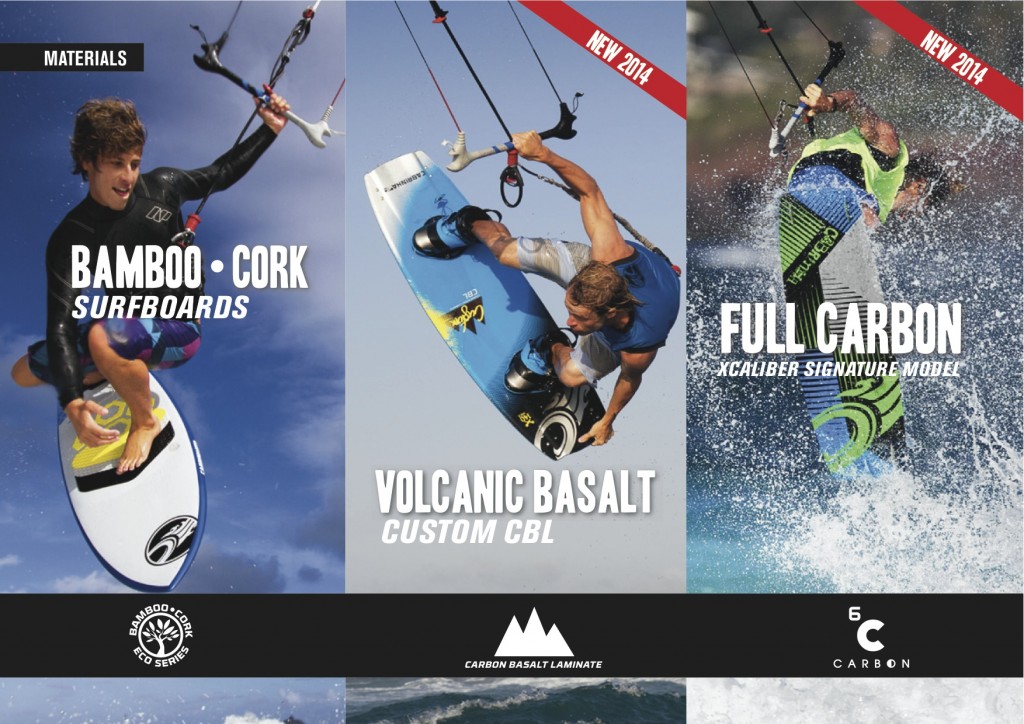 The new material for canopy on all Cabrinha kites 2014. Since this season all kites are made from specially designed for kite double ripstop material. This ensures greater strength, less stretch and better maintainability.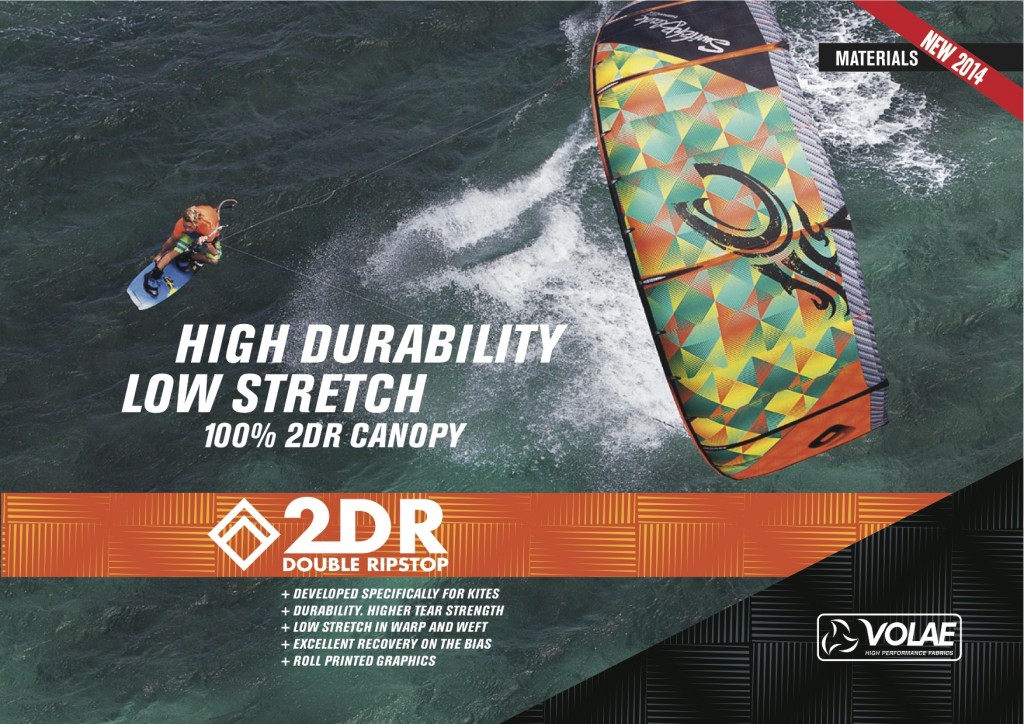 Air Collection – a set of equipment for kiting in the breeze. This year Contra returned. Three thin struts, big size bar 57-65 cm, the size of the kites 15 and 17m. In combination with two dedicated boards – twin tip Stylus and directional Alias ??form Air Collection – Weekend riders' chance to have fun in a light breeze.
Siren Collection – a set of equipment designed specifically for women. Narrower and shorter boards, smaller chiken loops, smaller footstraps, and just beautiful unique design – this is the Siren Collection.
Footstraps Hydra Series. New footstraps with a single adjustment strap on model H1 and two adjustment straps on H2. All models of twin tips, except XO Siren and Spectrum, sold separately, and each rider can choose more suitable for his riding style model of footstraps. New straps H2 have 5 different settings, while H1 weigh less. Both models are available in two sizes: Standard and Small.
The first part of the presentation ended with a new video featuring Pete Cabrinha, World Champion Keahi de Aboitiz, successful PKRA rider Alberto Rondina and other team riders Cabrinha 2014.
After a coffee break, we moved on to a detailed analysis of each product of the new collection. I plan to publish here some articles about it in the near future:
Thank you for reading to the end! Pete Cabrina can be proud of you!
See you on the Point. Welcome to the Pryde Club Mauritius!
P.S. All equipment from sales meeting 2014 is in Pryde Club Mauritius. Who wants to test it now in Mauritius, call +2309891060!